Happy Blog day to me .............................Today is one year that I have been blogging, I am pretty chuffed that I have stuck with it for so long because sometimes I just don't have (blank) to say. But never the less I have here for a year and loving it. And no I am not going to do anything as original as a competition I have learn my lesson with that plus, only maybe 2 or 3 persons read this space anyway. So I am just going have me a nice slice of cake a glass of milk and reread all my previous post. So that I can see what I have done wrong and what I have done right and aim to make my blog a more inviting place.
On another note I have received my Swap package from the
UK swap
.I will post a pic later. It was totally unexpected. I am still waiting to finish my package to send off but right now I am paying a few debts off so I can sleep better at night.
I have been doing so much over the last few months, I am now knitting for 3 different charities
Caring Yorkshire Hands
Save the Children
and
Blankets for UK Hospitals,
it's a really great feeling to know that some small item I have knitted will help to save a life or keep a child warm. I have already sent off 2 boxes of hats to Save the children and I am at present finishing up a few items for the Caring Yorkshire Hands and getting ready to start my first blanket for the UK Blanket charity which I have join over on
KH
. I will try to post Pics of a few of the FO's.
An update on my previous WIP some I have finished the Palindrome Scarf, the Pink Pinwheel Blanket and even went on to do An unoriginal hat I only have one item that is still on my needles well technically on waste yarn, that I have to finish and that is my first pinwheel blanket which was intended for my niece Kayla. but maybe I finish it on time for when she has her first baby. The blanket has so many stitches that It will no longer fit on any of my needles so I am searching for a longer one about 200 cm or so. because I want to move on I hate leaving things unfinished, hope I can find the needle soon.
I do however have several project in mind to start pretty soon but I am getting totally organise first so that I can confront any problems head on. I am really excited to get started because most of these items are for the upcoming winter.
On my to do list is and it is quite wishful thing on my part but I am going to try very hard to accomplish everything on this list:
Yarn: Knit Picks Wool of the Andes
Yarn: Cascade 220 Wool
Yarn: Caron Simply Soft
Yarn: Caron Simply Soft
Yarn: Brown Sheep Lamb's Pride Worsted
And these are not all I have alot of catching up to do with what I want to accomplish with my knitting so I am aiming big and shooting for the stars. So wish me luck. As I cast on each project and I am going to be CO each one simultaneously I hope, so my first step is to print all patterns which I will be doing this week and then the swatching begins. When I first started knitting I would only knit things that where small and that I considered easy and I was stuck in the mentality for quite sometime but I am trying to get out of that kind of thinking so I started the Palindrome scarf which to me at the time seemed difficult (by the way so easy) and the the Pinwheel Blankets (again so easy) so by the time I got to my Unoriginal hat cables where not as scary as before. And I have found that I rather like Cables. I think the other big things that scare the heck out of me are large garments and lace and the is where two of the projects on my to do list comes in. Anyway I am really excited about getting started and will be posting about my journey as I go through my list which as I finish one Item I will be adding another.
So Here are some pics of a few of my FO's and the first Pinwheel blanket as it stands now with over 1000 sts.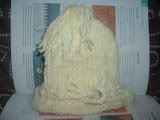 Have a great day!!Bye